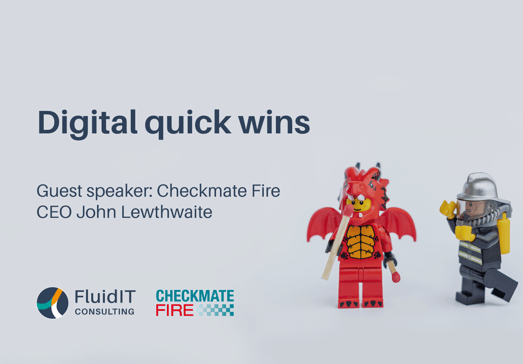 Buying a new system isn't the only way to overcome IT challenges. Cloud solutions can integrate and enhance existing technology investments. For many businesses digital transformation is about the right balance and blend of old and new.
Webinar takeaways
ERP investments are drastic in terms of the impact on people, processes, training and costs
Custom digital solutions are lower cost, lower risk and faster to implement
Businesses with Microsoft 365 already have access to the Power Platform cloud technology stack
The Covid-19 recovery is digital. The shift to remote working and adoption of Microsoft 365 were obvious steps. The next moves aren't so obvious. Every business needs a bespoke digital strategy and custom solutions to complement its unique set of system s, processes and people.
In this webinar we talk with John Lewthwaite, CEO of Checkmate Fire. John joined Checkmate as their new CEO in March 2020. He'd been in position two weeks when the country went into the first lockdown. The importance of data to inform management decisions became critical.
The business had good core systems, Boris, an industry standard system for the passive fire protection industry, plus sales software in Salesforce and a finance package ClipIT that was at the end of its life. They had a great administration team who processed the information with a lot of spreadsheets and workarounds because the systems weren't integrated. It all worked, but it was inefficient, there was duplication, scope for error and time wasted.
The fundamental issue for John was in access to real time information, turning data into management intelligence.
In this webinar we demo examples of the solutions we built for Checkmate - custom digital solutions that can be built at speed using the Microsoft Power Platform.
Sign in to see the interview with John Lewthwaite plus the 5-min demos:
Power BI – data visualisation and reporting
Power Automate – tells a system to automatically perform tasks
Power Apps – low code solutions that that are easy to build and can solve specific problems
FluidIT used Power Platform with Checkmate Fire Solutions Ltd to integrate systems with robotic process automation, build operational management dashboards, and supported Checkmate to implement a purchase ordering and invoice matching system. See the case study
https://blog.fluiditconsulting.co.uk/en-gb/blog/checkmate-fire-streamlined-processes-and-enabled-performance-reporting-with-fluidit
Agenda:
00:00 Welcome
01:47 Meet the speakers, Waleed Shihadah FluidIT Consultant, John Lewthwaite CEO Checkmate Fire, and Jonty Abbott MD FluidIT
04:22 Candlelighters FluidIT is supporting this charity through the webinar series
05:35 Introducing the digital-first mindset and the purpose of the webinar series
08:12 Interview with John Lewthwaite, CEO Checkmate Fire
29:02 Digital Quick Wins Demos – Microsoft Power Platform
31:06 PowerBI – Do more with data
33:12 Demo: PowerBI, Bob's Pet Store
39:40 Power Automate – digitise manual office processes
41:53 Demo: Power Automate, DVLA data entry process
48:42 PowerApps – bespoke solutions at speed
50:58 Demo: PowerApps, production sheet digitisation
57:38 Q&A with the panel